Scott Welker
- Founder of Trece Teros Escrima,
- Director of F.A.S.T.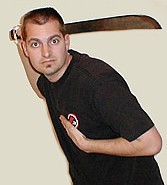 Scott Welker has been practicing a variety of martial arts for over 17 years. He began his martial studies with Okinawan GoJu Ryu Karate and Chinese Kenpo Karate, but his major emphasis is now the Filipino Martial Arts and Jeet Kune Do.
Mr. Welker found his calling within the Filipino martial arts in 1989 when he began a three year relentless study of Derobio Escrima under Maestro Dan Medina. Since 1992, Mr. Welker has been teaching Derobio Escrima around the world.
Mr. Welker augmented his studies in the Filipino Arts under the tutelage of Sifu Mike Brewer of Colorado Springs. Under Sifu Brewer, Scott Welker added to his repertoire a myriad of styles like Panatukan (Filipino Boxing), LAMECO Escrima, Wing Chun and Jun Fun Kickboxing.
Today, Scott Welker teaches a system which he developed based upon the multitude of Filipino styles he has studied over the years. This fast paced and tactical hybrid style, called Trece Teros, combines distinct, combative aspects of Derobio, LAMECO and Pekiti Tersia Escrima and incorporates both American and Filipino boxing methods. Trece Teros also emphasizes both offensive and defensive tactics with bladed weapons.
David Barnett
- Owner/Instructor, Wolfpack Martial Arts
- 3rd Degree Black Belt
Tae Kwon Do
- 2nd Degree Black Belt
Goju Ryu Karate.
Dave decided to take up Combat Hapkido under Mr. Huerta to fill the gaps in his training in his other arts, specifically joint locks and throws. He began training with Mr. Huerta in June 2002 and is enjoying it immensely.
Mr. Barnett moved from Wisconsin to Colorado Springs in 2000 with his lovely wife, Dana, and their three children - Matthew, 7, Manda, 6, and Michael, 5. The Barnetts are Christians, and are expecting their fourth child early next year.